IABCA Int. Champion Renaissance Rhapsody Monk CGC
The first thing everyone notices about Monk is how sweet and friendly he is. He has not yet met a hand he did not want to touch him. He is not pushy about it, infact, he picks up subtle body language when someone doesn't want his attention and he walks on.
At 10 years old Monk is now retired, living the good life in Seattle, chasing squirrels and taking lots of naps. He is living with my Ex husband, so the kids spend their breaks from school hanging with the old man.
Monk is pictured below at SIlkenfest 2014 in Olympia, WA. I would say the cool weather has treated him well.
Rachael and Monk
Rachael and Monk have been a team in the show ring since as John with Rarities says, " you could just barely see her head bouncing behind the dog." Monk is so good with her and you can see how calm and well teamed they are just by watching them move together. Rachael took Monk to win Open against a large class at Boofest 2008. She also won best Jr. Handler, She was 7 years old. At almost 14 years old, she does not have the same interest in showing but she still loves the Silkens and traveling and helping out at the shows.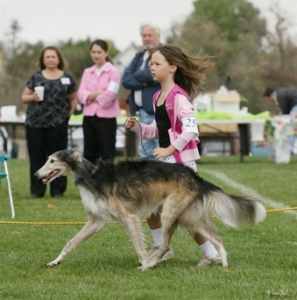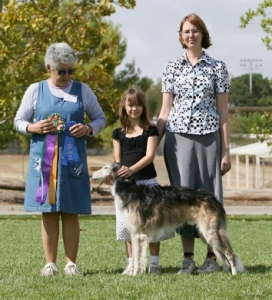 Monk Stats
Date of birth: 12/22/2004
Registration Number: 2004-138/04
MDR1:  Clear
OFA Heart: SWH-CA4/12M/C-PI
OFA Thyroid: SWH-TH3/12M-PI
CERF: SWH-131
CGC: Yes 2007
Height: 23 1/4 inches.