DARE Litter Born 2-25-15
Aearacura Dare to Love
True to her  name Love is an absolute doll and love. She is outgoing and curious
always happy and constantly playing.
Love now lives in Scottsdale, AZ and is called Ricki
CEA/MDR1 Carrier
Aearacrua Dare to Hope
Hope is now living among the stars in Hollywood, CA and is now known as Harlow.
Harlow is so daring! She has a take charge personality and is the first to pounce and play.
She has a new little brother now and loves to make new friends in all her celebrity Hollywood circles.
CEA clear/MDR1 Carrier
Aeracura Dare to be the Change
Staying at Aeracura
Ginger is sweet and loves to cuddle.  She also loves to explore and get into trouble. She is very well put
together and looks like she will have more of her fathers curves and is already showing promise
of her fathers gliding movement.
CEA/MDR1 Clear
Aeracura Dare to be Different
Rini went to Broadway Silkens to become a star in Colorado and is Co-Owned by Aeracura.
Rini is a spit fire of a girl and always has something to say about what
is happening around her. She is fearless and smart and funny and always happy. She has two Best Puppy in
Multi breed show under her belt, winning the first just days after turning 3 months old. We cannot
wait to see how this girls show and racing career will take off.
CEA/MDR1 Carrier
All the Babies at week 4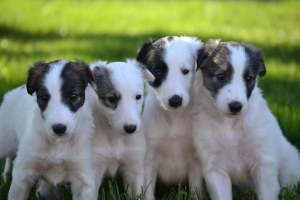 Sweet moment of week 5 is Daddy Dakar and Baby Hope